Lifeboat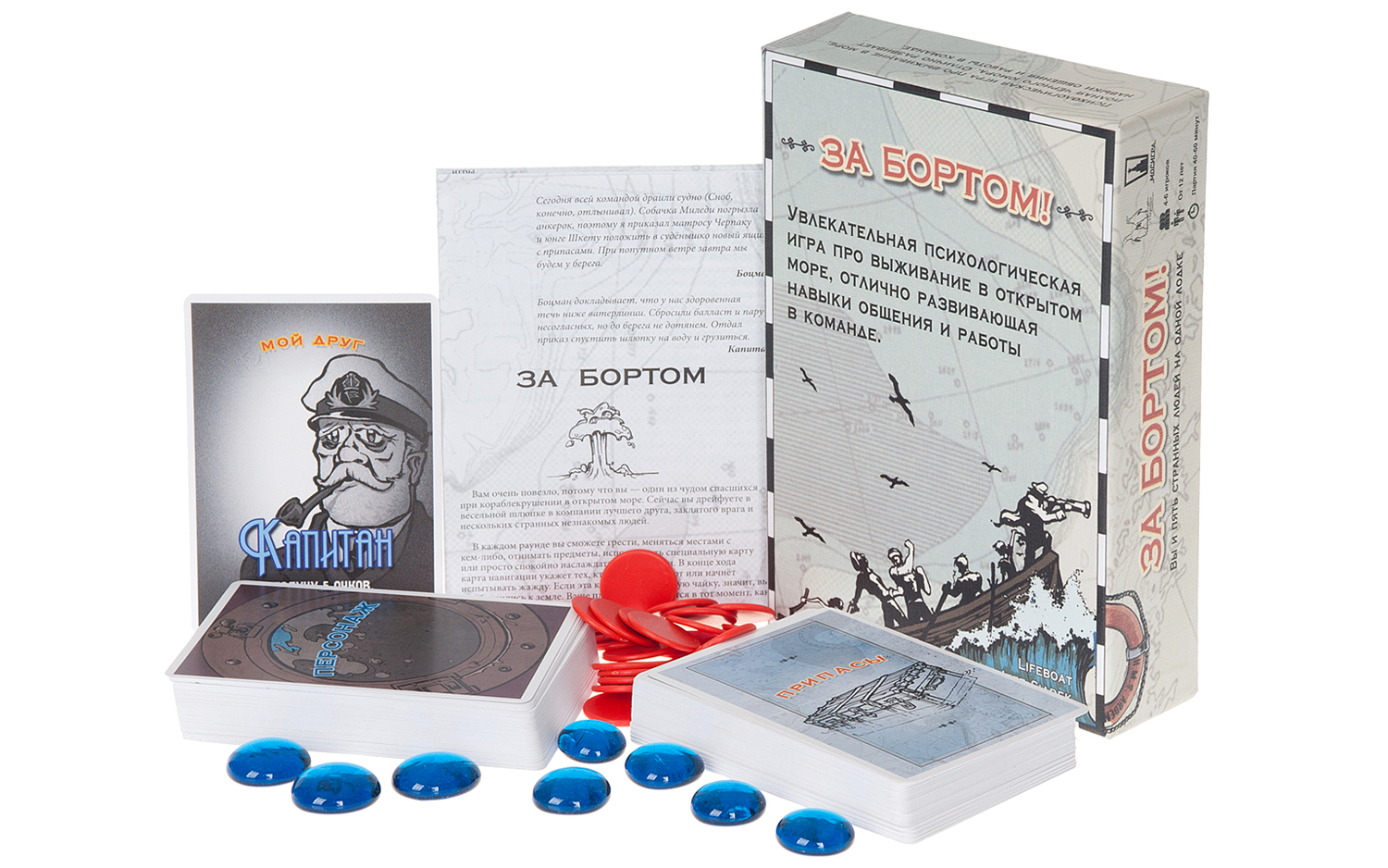 4-6 players

40-60 minutes

From 16 years old
It is a localization of American hit "Lifeboat" based on the cognominal film of Alfred Hitchkok. This game, full of grim humor and intrigues, describes the adventures of 6 persons that have got off the sinking boat. In terms of limited resources the players try to reach the shore and at the same time to get as many scores as possible.

This is cool! What for do I get score?

The scores are given for your own survival, for your enemy's death and for your friend's survival (enemy's and friend's cards are randomly distributed at the game's start), as well as for saved values, e.g. money, pictures or jewels without practical use in the sea.

Well, and what are the rules?

The essence of the game is to share supplies, to co-operate on the boat's board, direction choice and mutual help for survival. In case of abstract game it becomes rather easy technically. In case of psychological game, i.e. taking into account the plot, it becomes a thrilling detective story with rather long terms of the set and practical absence of victims on board.

So, do we always agree upon and share things?

In case of experienced team of "Lifeboat" is an interaction of two alliances on the boat: herewith at the moment of someone's overweight as a rule causes leader's debunking and new groups forming. Accept for the plots' thrill it enables to receive valuable directing skills in crucial situations.

And what about translation?

General game's figuration corresponds to original one, translation is made not word by word, but taking into account stereotypes and memos interpretation in Russian conditions.

Ok, whom is this game destined to?

— Suites ideally companies understanding and valuing grim humor.
— Suites ideally for training before negotiations and communicative skills improving in general.
— Develops well business qualities.
— May be played in café.
— Is ideal for trip.

The basic game's version contains 6 personages: gloomy Captain, good-natures Boatswain, proud Milady, calm Snob, cynical Bailer and thievish Lad. Amendment "Cannibalism" and "Liquid Courage" edited in one box introduce two more charming passenger on boat: a bit far from reality doctor and merry pirate Madame Vong, plus several new cards change the game mechanics. The game with the amendment may be played in the company up to 8 persons.
What does the basic version consist of?
— 42 supplies, e.g. compass, water, money, paddles or a hook;
— 6 personage cards and 6 jams cards (seats on the boat);
— 6 enemies cards and 6 friends cards;
— 24 navigation cards;
— Fatigue and wounds markers;
— Rulebook.
A game by Jeff Siadek.