Friday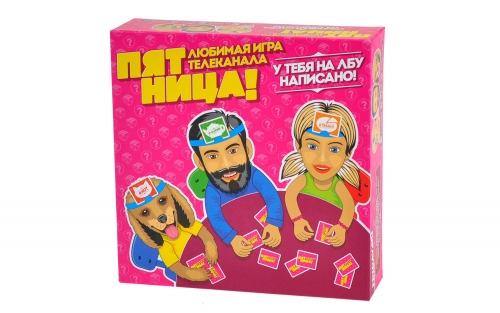 2-6 players

45-90 minutes

From 10 years old
There is a moment in everybodys life when you ask yourself "Who am I?", "Am I noisy?", "Am I heavy?", or "Am I an animal?". Hovewer, this moment lasts only a minute - the time hourglass gives you to guess who you are.
Putting a definition word card on your forehead, you then have a minute to ask prompting questions to other players, thus trying to guess your word. If the player did not succeed in his guess, the card is taken away and the turn goes to next player. The winner is the player who guessed more words.
Contents
— 194 definition words cards
— 6 helping cards
— 6 plastic hoops
— A minute hourglass
— Rules
How to play:
1. Put all cards on the table facing words down and shuffle thoroughly.
2. The players put hoops for cards on their heads.
3. Without quarrels and fights (at least for now) the players negotiate who will start.
4. The first player then takes any card (not looking) and puts it on his forehead. It is written on the card, who he is - e.g. "a cat", "an eye" or "an anchor". Everybody but the player can see the word on the card on his forehead.
5. Hourglass then turned upside down and the minute starts.
6. Asking the prompting questions to other players, the player must guess who he is in less than a minute. Examples of questions are written on the helping cards. You can follow the examples or invent your own questions.
7. If a minute has passed but the player couldn't deduce who he is, his card is taken away and the turn goes to next player.
The winner is the player who guessed more words.·